George Robert Lamkin
25th February 1896 – 1st May 1915
Born at Eastling (near Faversham) Kent to George Robert Lamkin and Annie. George was the eldest of six children: five boys and one girl.
The family moved from Eastling sometime between 1898 – 1901 to Aylesford and then again in 1906 to Higham.
George's father worked as a farm labourer and waggoner and George followed in his father's footsteps.
According to his naval record George was a blue eyed lad of fresh complexion and auburn hair standing at 5' 9" in height. He signed up on the 27th May 1914 for a 12 year enrolment.
His first assignment, after enrolment, was to be stationed at the Royal Navy Air Station at Eastchurch on the Isle of Sheppey where he was a Stoker 1st Class until the 28th October 1914.

After initial training his first ship was the 'C' class destroyer the HMS Recruit which was part of the 'Nore Local Defence Flotilla' whose duties included anti-submarine and counter mining patrols in the Thames Estuary.
On the 1st May, whilst patrolling with its sister ship, the HMS Brazen, off the Thames Estuary the Recruit was attacked by the German submarine UB-6. She was struck by a single torpedo which broke the Recruit in two and it sank almost immediately with the loss of 39 men, 4 officers: 22 crewmen were rescued. She was one of 14 ships to be sunk by the German UB-6.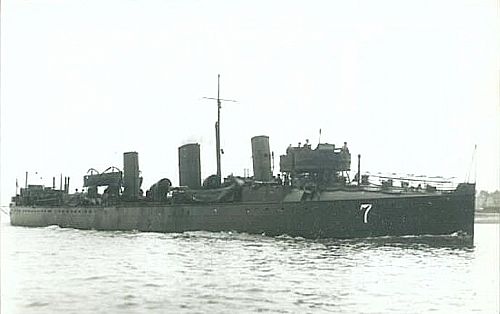 H.M.S. Recruit
George Robert Lamkin was one of the crewmen who lost their lives on that day. His body was never recovered and he is remembered on the Chatham Naval Memorial.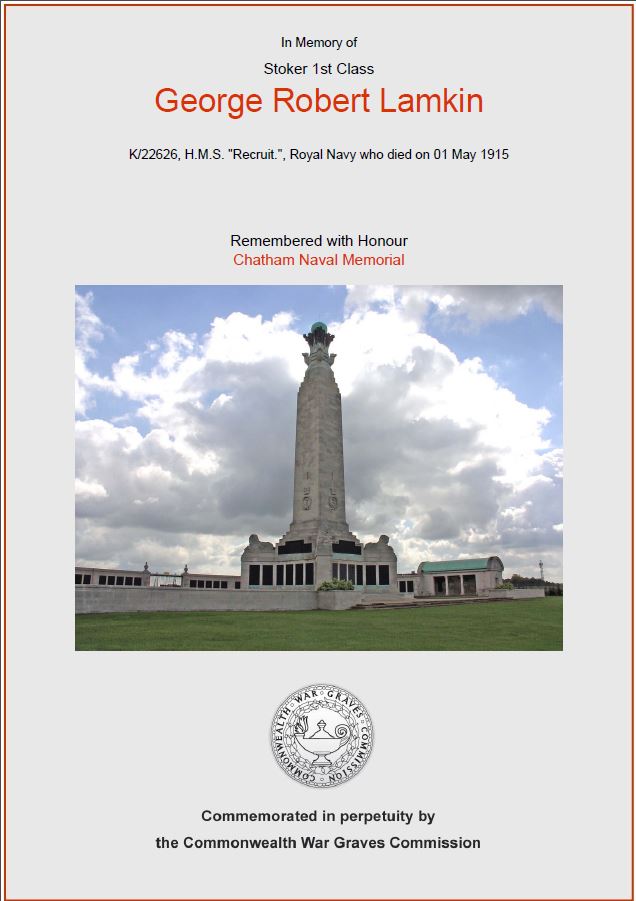 © April 2014, D. Green - Cliffe History