Lower Hope Battery
Along the banks of the River Thames, at Hope Point, was once the site of a beacon which was erected, along with others at Gravesend, Tilbury and Shoebury, as an early warning system following attacks from France in the 14
th
Century. It would appear however that these beacons were not always renewed or maintained and in 1380 a combined French and Spanish fleet managed to sail upriver in Gravesend causing havoc by burning, looting and taking prisoners.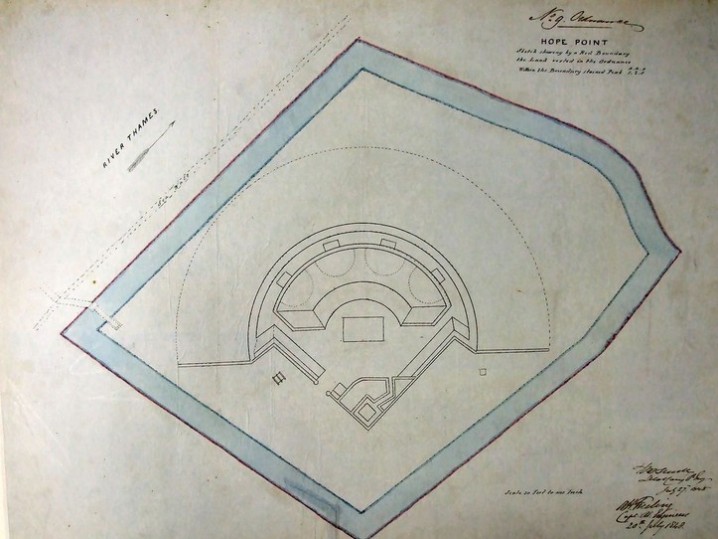 1800 Plan of Hope Battery, dated July 1848, prior to the 1898 rebuilding of the improved battery.
By 1796, following the French Revolutionary War of 1793, a small battery was constructed to defend the River Thames and approach to London from the threat of invading forces of Napoleon. Although nothing materialised from this threat it did bring about renewed efforts to bolster the defences along the Thames: the route to London and major military works at Greenwich, Woolwich etc.
The battery at Lower Hope Point soon fell out of service and by the mid 1800's it was replaced by the
Anchor & Hope public house
, run by Joseph Germain and his wife Elizabeth, serving the workers from the local cement works, Hay, Merricks & Company gunpowder stores and rivermen.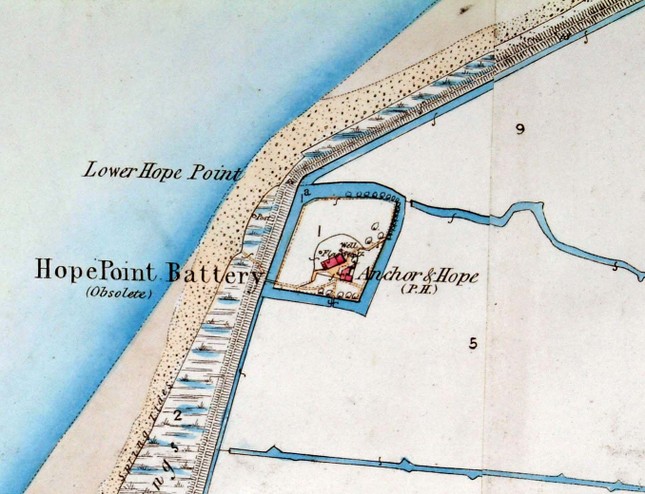 Site of the former Lower Hope Battery replaced by the Anchor & Hope public house.
(Records of the Earl of Darnley of Cobham Hall Collection, MALSC U565, E689, reproduced by kind permission of Medway Archives and Local Studies Centre)
Supplementing the numerous forts, commissioned by Lord Palmerston, a second battery was constructed at Lower Hope Point in 1898 consisting of 2 x 12-pounder quick-firing guns with flanking searchlights. There several complaints made about the use of these powerful searchlights during practices by masters of ships using the Thames, who were sometimes so dazzled by the powerful lights that they were unable to navigate and therefore were in danger of running aground or colliding with another vessel!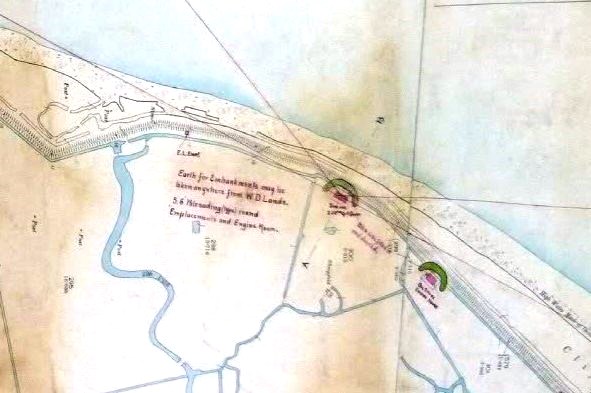 Plan showing the gun emplacements.
Although the battery is not listed as being armed in documents of the First World War eyewitnesses refer to the continued existence of the battery superstructures until the late 1920s or early 30s.
During WWII saw the introduction of air defences in the area and an anti-aircraft battery consisting of a 3-inch and a 6-pounder Hotchkiss were installed at Lower Hope Point.