Cardon's Manor ( sometimes spelt as Carden's Manor) earliest mentioned ownership was by the heirs of Robert Cardon, Robert le Ram and Alice Salomon in the early 13th Century and was situated somewhere along Cooling Street. John le Ram held onto Cardon's whilst Robert le Ram held Mortimer's Manor and it is Robert's wife, Joane, that was buried in St. Helen's church with a Medieval coffin lid inscribed:
'
JONE LA FEMME JOHAN
RAM
GYST VCI DEU DE SA ALME EIT MERCI'.
Cardon's Manor was then granted, by Edward IV, to Charterhouse Priory of London in 1458 and it stayed until the great upheaval of the monasteries and church lands during the reign of Henry VIII.
Cardon's Manor, together with Mortimer's Manor, became awarded to Thomas Giddens, a London wine merchant.
However, he only held it for under a year before Henry VIII granted the land to Oliver Leder.
Grant by Henry VIII 1539
Th. Gyttons. Licence to alienate the

manor

of

Cardons

, a tenement called Balards, a tenement called Drapers in the parish of Clyff, Kent; a tenement in the parish of Higham and in the parish of Clyff, Kent; a tenement or farm called Sowthwood in the said parish of Clyff; a messuage and six acres of land; 2 marshes and 5 acres of land, a marsh called Northehope, and a messuage and garden in Clyff; and all lands, &c., in Clyff and Hygham late in the tenure of Th. Drynkewater; a tenement and 15 acres of land in Clyff and Hygham in the tenure of Ric. Hayes, and the newlybuilt houses and 15 acres of arable land in Clyff, Hygham and Frynsbery, Kent, in the tenure of Joan Swynam, widow; to Oliver Leder and his heirs for ever. 19 June.
Pat. 31 Hen. VIII. p. 6, m. 20.
Cardon's was then left to Sir Oliver Leder and Thomas Giddens son, David Giddens, until the lands were sold to William Saunders of Ewell, Surrey.
William Saunders was to marry Joan, Thomas Giddens widow, and it was she that was bequeathed the Manor of Cardon's for her lifetime. (Joan would die 10 years later in 1580)
According to William Saunders
Last Will & Testament
, dated 1570, the Manor of Cardon's would be passed onto his wife Joan, and, after her death, to his sons, Nicholas Saunders, Erasmus Saunders and Francis Saunders and then onto their lawfully begotten male heirs and their lawfully begotten male heirs forever.
It's interesting to note that the lands referred to in his Will states that they cover the parishes of Cliffe, Cooling and Higham. It is also clear that more land had been purchased by William Saunders to add to his portfolio.
By 1722 the Manor of Cardon's was held by the Dean and Chapter of Rochester:
Dean and Chapter of Rochester Leases Cliffe Cardons Manor and all the other properties mentioned in this section including the cottage and 6 acres land and Woodside. Lease and release Thomas Prat [cf. Pratt] of London, gentleman, and Phillip Brook, Richard Sheafe, John Sheafe, Richard Sheafe, junior, and Frederick Hill, all of Rochester gentlemen to the Dean and Chapter of Rochester.
Date: 20,21 July 1722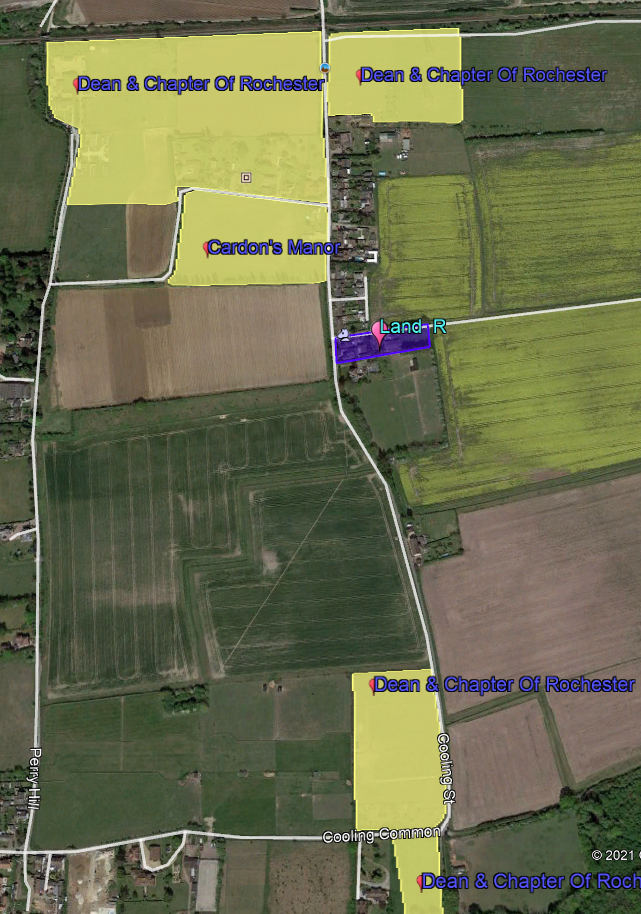 On the Tithe Map of 1840 it shows the estate of the Manor of Cardon's still remaining in the ownership of the
Dean and Chapter of Rochester, although it is very likely that much of the estate may have been sold off.
The piece of land that's shown in blue, was part of the Manor of Mortimer's estate.