As you look towards the nave, the pulpit is situated to the left hand side in the church of St. Helen's. It is a grand piece of wooden 'Jacobean carving' and is believed to be dated about 1636 due to this date being carved on the hour-glass bracket.
It originally stood quite centrally in the Chancel but, over time, had fallen into disrepair and balanced on one leg until about 1875. The pulpit underwent major repair and was placed upon a stone base with three stone steps leading up to it.
Pulpits, together with their accompanying lectern and desks, came into prominence following the Reformation where there was an emphasis was concentrated on preaching and teaching the Word.
It was quite usual for these pulpits to have an hour-glass to help the Rector to refrain from over preaching the Word…. to many of the parishioners' relief!
Our present pulpit was endowed with one such hour-glass but it mysteriously disappeared sometime in 1967.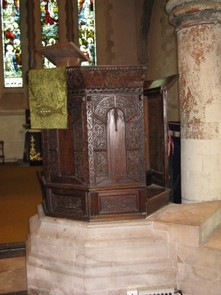 It is possible that prior to the present pulpit there had been another pulpit and this is referred to in the recordings of a previous Rector, the Reverend H R. Lloyd, where he mentions, 'In 1469 a reference is made to "the light of St. Mary by the pulpit", which indicates a form of pulpit before the present one of 1636.'