William John Thorndike (1863 - 1912)
On the 3rd of September, 1863 a boy was born to a young couple, William & Emma Thorndike, at Johnsons Whiting Works cottages which were in later years known as Flint Cottages or Granny Callars and which laid to the northern end of Cliffe Canal alongside the Canal Tavern, which under the stewardship of one Isaac Thompson was known locally as 'The Shant'. The young boy was named William John Thorndike and he was of course not to know that in later years he would become landlord of that same public house whose smells and banter surrounded his crib.
At the age of 17 he is working alongside his father and his two brothers, Joseph and George, at the cement works that surrounds his home.
In 1882 William decides to leave home and childhood sweetheart, Priscilla Albon, and seek his fortune in far-away lands. He boards the Steam Ship 'Liguria' of the Orient Line and travels to Gibraltar, Port Said, Suez, and Colombo before reaching his destination in Australia.
Although it is not fully known what William did in Australia it appears that he spent his time on the sheep stations in and around Murray Downs & Swan Hill in Victoria.
William returns home to England in 1889 and soon marries Clara Hammond at St. Nicholas's Church in Strood and the couple settle down in Upper Stoke where he takes up the running of White Horse pub. It is there that their son, William Hector is born and is baptised at St. Helen's Church.
When a vacancy for a landlord in Cliffe arises he takes it and he returns to Cliffe once more and becomes the licensed victualler of the Canal Tavern – a few yards from the cottage where he was born. It is here that the couple have their daughters, Winifred May, Gladys Marion and Dorothy: sadly Gladys Marion succumbs to meningitis just before her second birthday.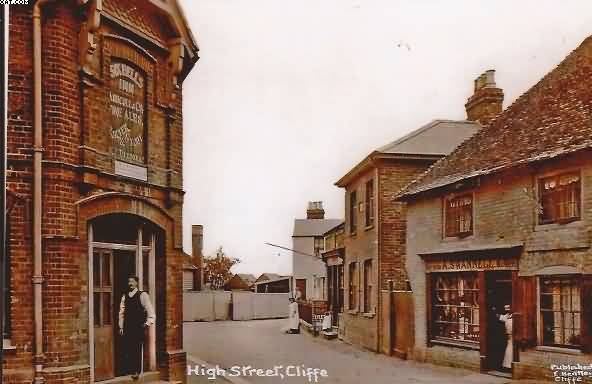 John standing outside the Six Bells
By 1901 William John becomes the landlord of the Six Bells with his cousins, running the establishment The Victoria Inn, across the road.
It is about this time that a tragic fire took place with a 100 yards of the Six Bells when Two cottages that lay opposite the chapel [which was later the Temperance Club] and adjoined the forge were destroyed by fire.
The Topley family appear to have escaped before their home collapsed but tragically the Kenknight family, who lived next door, were trapped by the flames. Ellen Elizabeth, aged 7, Lilian May, 4, and their father Richard Henry Kenknight were found in each other's arms burnt to death.
Their mother Elizabeth Jane died two days later in hospital.
Their burial takes place on the 15th of that month at St Helen's Church, Cliffe. It is believed that William John Thorndike was among the rescuers and sustained a head injury when the upper floor collapsed upon him.
William's life is soon turned upside down with the sudden death of Clara, his wife in 1907 and the following year his son, William Hector dies of TB.
Whether William John has a longing for a return to his Australian life of adventure it is not known but what is known however that he has four houses built on Buttway Lane with a view over the Thames and names them Murray Downs, Swan Hill, Victoria and Australia Which replicated his place of settlement in that land.
On the 16th May, 1912 William secretly marries his childhood sweetheart, Priscilla Albon at Chatham Registry Office and the details of their marriage was withheld from his friends and with the known exception of Thomas his cousin who was landlord of the Victoria Inn, his family also.
On 22nd of May, 1912 Priscilla enters the downstairs room to find her new husband laying upon the floor with his throat cut. Dr Rogers is sent for and, when they turn William over, they discover multiple self-inflicted stab wounds to his chest. William leaves a note behind explaining his actions.
William John Thorndike is buried on the 28th of May at St Helen's Church Cliffe where his headstone still stands.
It should be noted also that although he committed suicide William John Thorndike was allowed a burial within the church grounds which was not always the case.
This perhaps conveys as much as any epitaph can, the stature of the man and reflects perhaps upon the fact that the scars that he carried both physically and mentally after the tragic fire, that took the Kenknight family in 1901, were considered when the decision to allow the burial was made.