Mortimer's Manor
As you travel out of Cliffe Woods, on the right-hand side of the B2000, lay Mortimer's Manor. Although much has changed over the years there still exists remnants of a much ancient building within.
Mortimer's Manor was known as 'Blue Gates', the name apparently deriving due to the blue coloured gates that once stood at its entrance.
In 1259 John Mortimer and Guncelin of Clyve (Eleanor de Clive?)
held the manor which was then passed onto John Mortimer and Robert le Ram in 1327.

The inscribed stone coffin lid ofEleanor de Clive (sadly can no longer be clearly read).
Hugh de Mortimer, who was in possession of the estate in 1312 or 1327 received a grant to hold a fair in the grounds of the estate.
The Mortimer family then left the manor and it was taken over by the Englefield family whose ancestor was reputed to be Hasculfus de Inglefield, of good Saxon stock who lived during the reign of Canute.
It would appear that the Englefield family may not have resided at Mortimer's as their main residence was Englefield House in Berkshire. Sir Thomas Englefield, Speaker of the House of Commons, passed on the manor to John Sedley.
It appears that, like the Manor of Cardon's, it was transferred to Charterhouse Priory until the reign of Henry VIII and, again like Cardon's was transferred briefly to Thomas Giddens.
The manor passed through many owners after Thomas Giddens: Richard Lord Wentworth, Mr.Thomas Polley and Robert Lee of Chatham who then passed onto his son William Lee who was a surveyor in Queen Anne's navy.
William, although married twice, had no heir to succeed him and the manor was passes onto family members Mrs Ward and her brother, Rear Admiral Henry Ward. After Henry's death, in 1757, the manor was left to his son, Edward Vernon Ward.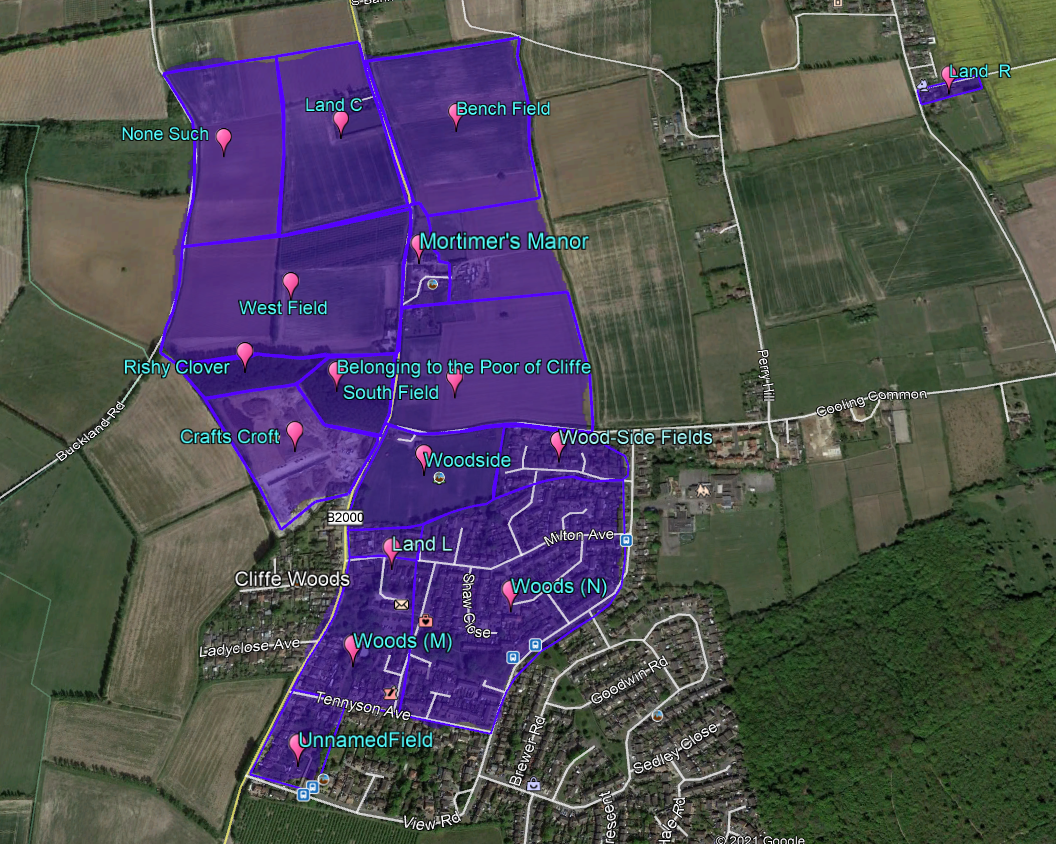 The Manorial lands of Mortimer's shown on today's landscape.
A surviving map of 1692 shows the lands of Mortimer's Manor covering the whole that is now Cliffe Woods, land to either side of the B2000 neighbouring the present site of Mortimer's and land on the Marshes and the Great Mead (Redham Mead).
According to the Tithe Map of 1840, Earl Darnley was now the owner of the lands which once belonged to Mortimer's Manor.