The Fallen
This page is dedicated to those Cliffe villagers who gave their lives during the Great War of 1914 - 1918.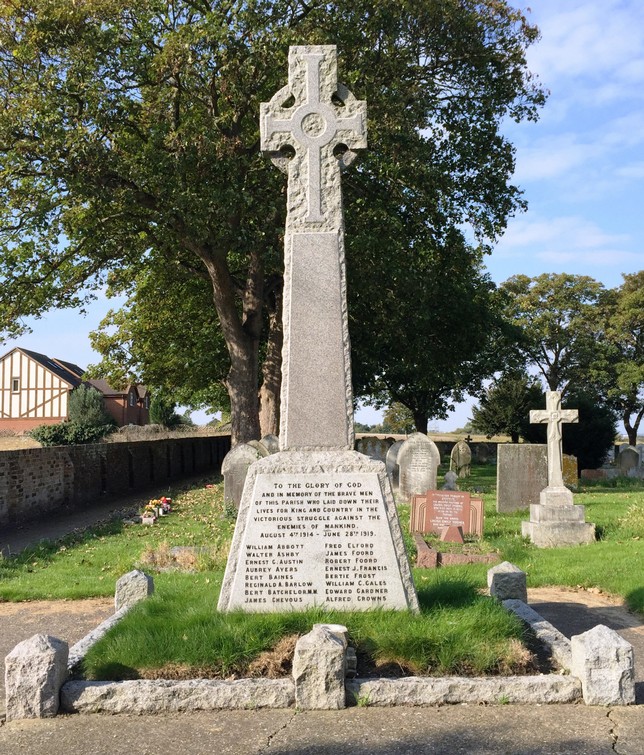 The War Memorial at St. Helen's Church, Cliffe.
This Memorial cross was unveiled on a Sunday afternoon in 1920 by Major-General H. F. Thuillor CB in the presence of a huge gathering. The memorial is of an Iona Cross carved from Aberdeen granite and designed and by Mr. J. H. Durrant of Rochester.
It was erected at the cost of £255: the money raised was £277 with the balance of £22 to be set aside for it's upkeep.
The Memorial stands just inside the churchyard by the main entrance and contains the names of most of those who gave their lives in the Great War. Others were recorded elsewhere in nearby Methodist chapels in Cliffe & Spendiff.
On the front of the Memorial stone it reads:
"To the glory of God and in memory of the brave men of this parish who laid down their lives for King and Country in the victorious struggle against the enemies of mankind. August 4th 1914 to June 28th 1919."
Later, after the end of hostilities of WWII, the names of those who lost their lives in that conflict were also inscribed upon the Memorial.
Below is a list of those who fell, some open out giving more detail upon the individual.
The Fallen
died 26/02/1919 aged 25
died 10/02/1918
died 26/02/1917
died 14/11/1918 aged 32
died 07/01/1916 aged 18
died 31/07/1917 aged 27
died 27/8/1918 aged 27
died 21/03/1918 aged 26
died 22/09/1914 aged 37
died 31/07/1917 aged 35
died 31/07/1917 aged 29
died 29/08/1918 aged 22
died 04/12/1916 aged 21
died 28/08/1915 aged 31
died 21/09/1917 aged 22
died 11/05/1916 aged 56
died 13/11/1917 aged 23
died 13/02/1919 aged 33
died 14/11/1918 aged 19
died 22/11/1918 aged 36
died 18/10/1918 aged 56
died 14/03/1915 aged 21
died 25/09/1915 aged 35
died 06/02/1919 aged 35
died 02/07/1916 aged 25
died 03/10/1918 aged 30
died 04/11/1918 aged 23
died 01/05/1915
died 13/10/1914
died 24/12/1915 aged 22
died 03/07/1915 aged 29
died 21/03/1918 aged 23
died 28/10/1915 aged 18
died 09/07/1917 aged 20
died 15/08/1917 aged 26
died 16/09/1916 aged 41
died 23/04/1917 aged 27
died 13/07/1916 aged 20
died 18/11/1918 aged 23
died 03/10/1917 aged 26
died 13/10/1918 aged 18
died 03/10/1918 aged 27
died 03/05/1915 aged 20
died 17/02/1917 aged 25
died 09/08/1915 aged 22
died 07/10/1916 aged 23
died 03/05/1917 aged 20