During the war the line was well used with the oil terminal being adapted as the base for PLUTO (Pipeline under the Ocean). For more information on PLUTO please refer to an article dispayed on 'Kent Past - The History of Kent' website
here.
Soon after the end of the war the Anglo-Iranian Oil Company built their largest refinery in Britain at Grain. Extensive rail facilities were provided and from 1951 Port and Grain Crossing Halt were closed while a new Grain Station was constructed east of Grain Crossing. The new station had a long single island platform and a large brick signal box and was intended primarily for the use of workmen at the oil terminal.
With the increase in of freight traffic it was suggested that line was to be electrified but, as the traffic continued to deteriorate the line went back to single track in 1957.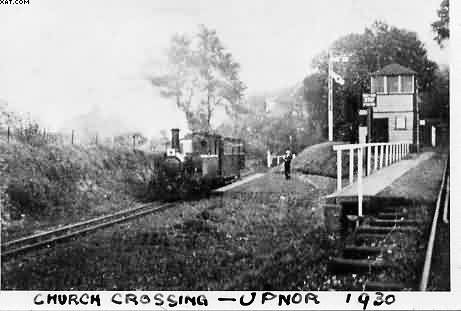 The situation remained the same until the end of 1961 when the passenger services from Hoo Junction on the Gravesend line to Grain and the branch to Allhallows were withdrawn: this was before the infamous "Beeching Report" of 1963 which saw the pruning of many branch and secondary lines.
The station buildings at both Cliffe and Sharnal Street were finally removed in 1966 apart from the signal box at Cliffe which, in 1973, was completely demolished.