At this time it was his great desire to follow up either locomotive or marine engineering, but in 1868 his father, who had retired from the consular service and had acquired an interest in the Nine Elms Cement Works, near Gravesend, required his services as works manager.
Vitale took over the entire management of the cement works at Cliffe Creek and became a partner. He rebuilt and enlarged the works – designing new buildings, wharves and kilns. He went on to invent improved wash-mills, hydraulic slurry pumps, and a new system of drying slurry employing waste heat from the kilns instead of going direct to the atmosphere, passed under the cast-iron and brick arch drying-floors.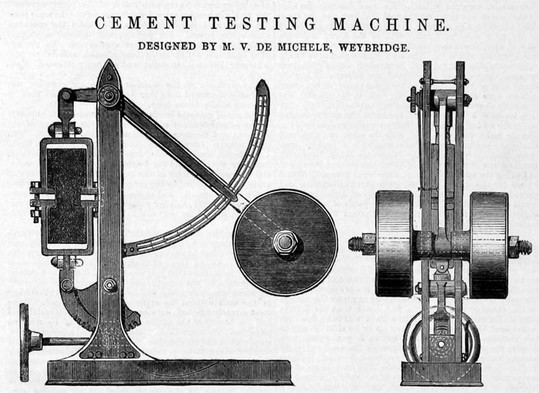 About 1871 he invented the increasing leverage cement-testing machine. He also brought to a successful issue the manufacture of cement on a continuous principle, after the manner of the paper-making machine. So carefully did he conduct his chemical and mechanical tests of cement that he brought up the quality to the high pitch required for rock lighthouses. He took a practical interest in the smoke question, and invented a stove and fireplace with rotatory churn bottom bars, by which coal or coke were put in behind the fire, which thus always had a bright front and made no visible smoke.
He continued to expand his interests and from 1877 he was engaged in building wharves at Vauxhall and Greenhithe, water supply works to Higham, the stiffening of the swing portion of Rochester Bridge, drainage and embankment works at Strood, the erection of several cement factories and the construction of steel screw triple-expansion steam-tugs.
Vitale was a well-known and respected character in Cliffe society and was elected as a Cliffe Parish Councillor on 15th Aril 1896 & re-elected 21st April 1897.
Vitale was recorded as the licensee of the 'Nine Elms Old Factory Canal Tavern', known usually just as 'The Canal Tavern' between 1872 and 1893 In the Register of Licenses granted in the North Division of Aylesford Lathe for this establishment the original owner's name, Francis & Co., had been deleted and replaced with Vitale being part owner of the tavern with his father and Percy Oldfield Francis.
He also served as a Justice of the Peace for Kent.
He was rich and successful, and lived at his residence of Higham Hall where he died on 21st March 1906, in his fifty-eighth year.