We are not completely certain for the decision but the Crane family, over a period of a couple of years, left England to begin a new life on the other side of the world.
Certainly Thomas Charles Crane was a highly respected man in the village - when he and family left he was a Parish Councillor, a Schools' Manager, Charity Trustee and People's Churchwarden, and was presented with an inscribed silver watch, and a purse of gold (£35) subscribed for by his many friends.
The Crane family (all except son Henry) migrated to Australia between 1910 and early 1912. Son Edwin (Ted) was first to leave the UK in July 1910 with his wife and young son Albert Edwin Charles: fondly known as Ted, then Willie (March 1911), Tom and family (July 1911) and Edith Rose (August 1911). Thomas Charles Crane (Snr) along with his wife Emma Jane and daughters, Nellie, Jessie, Florence and Mabel together left the UK in November 1911. Last to leave was Emma Jane and husband Frank (Thorndike) along with sister Elizabeth (Lil) and husband Bert Reade in late December 1911. Tickets were purchased for 15 pounds each and Frank, Emma, her sister Lil and husband Bert Reade boarded the SS Geelong for a journey of 11,810 miles to Brisbane, Australia. Leaving Tilbury UK on 28th December 1911 they arrived safely in Adelaide 8th February 1912 continuing on to Sydney.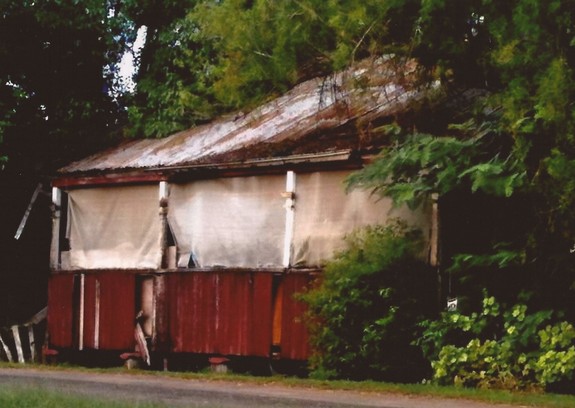 After leaving Cliffe and the relative splendour of Allens Farm the Crane family moved into what can only be described as a shack!
The family home was now in Nanango, Queensland to the north-west of Brisbane. Nanango Shire was originally inhabited by the Aborigines. They used it (primarily) as a gateway into the Bunya Mountains, where Bunya pine nut festivals had been celebrated ever since the Dreamtime.
In 1866 gold was discovered and the following
'gold rush'
lasted from 1866 until 1888. Today, along the
7 mile diggings
Traces of gold and gemstones including red garnet and opaque sapphires can still be found.
Frank and Emma disembarked at Sydney making their way to Dungog, a country town in mid NSW working there on a farm for a time. Lil and Bert continued to Brisbane on the "Wyandra" arriving 24th February 1912 and then moved on to Nanango in country Queensland where most of the family had made their way to begin dairying in February 1912. The Crane family had raised cattle in UK and owned a local butchery in Cliffe UK so the industry was familiar to them however the vastness of the area they now lived in must have taken a huge adjustment.
Nanango is one of Queensland's oldest towns and has a unique heritage and colourful past. Situated approximately 131km (81 miles) north west of Brisbane the journey takes around 2 hours comfortably by car. It would have been a far different story in the early 1900's though the area was opening up and growing considerably. Nanango today is the home of the Tarong Power Station and Coal Mine and has retained the tranquil and beautiful setting of a country town with all businesses offering genuine country hospitality.
Lil's husband Bert sadly passed away in Nanango in 1913 at the age of 33 yrs. She remarried to Albert Strange in Apr 1916 and they purchased property in Brisbane at 26 Thomas Street Greenslopes building a house there. The house was called "St Georges" named after "St Georges Row" where the Crane family had lived in Cliffe, England. "St Georges" was later to become the Thorndike family home.
Moving on from Dungog approx 1913 Frank and Emma joined her family in Nanango where they lived and worked, Frank continuing as a butcher (occupation recorded on his enlistment papers) and farmer (listed on young Frank's birth certificate). After the sadness of losing their little daughter in 1902 it was another 12 years before son Frank (Frank Jnr) was born on 2nd August 1914. It was a joyful time in their lives and young Frank was much loved. He was an only child and grew up hearing many stories of family life back in Cliffe, Kent. Emma had worked in the Manor House and told stories of secret tunnels, some from the Manor House to the church down the lane, lights signalling in the windows to smugglers operating the area and other scary things. There was much correspondence with other siblings and relatives and friends, including Frank's mother Anne in the Victory Inn. Frank Jnr always had a desire to go and visit Cliffe and see for himself the places they had talked about so often. It wasn't until his 80th year in 1994 that his dream was realised and he visited England in person with son and daughter in law, Roley and Claire. It was a great joy to meet some relatives and to see for himself the old haunts of his parents.
Frank and Emma purchased a property to dairyfarm just outside of Nanango named "Illawarra" where they milked a herd of the Australian Illawarra Shorthorns. Emma's father Thomas also farmed and milked this same breed. Adjacent to their property was Mabel (Emma's sister) and her husband Ben's farm, also dairy, named "Glan Devon".