William Charles Gales
17th July 1895 – 4th December 1916
William Charles Gales was born in St. Marylebone, Westminster, London on the 17
th
July 1895 to William James & Sarah Jane Gales after their marriage in 1893.
William's father was a retired police constable originating from North Walsham in Norfolk.
The family moved to Cliffe from London sometime after 1908 when William's father sought work at the Curtis & Harvey explosives works where William himself worked too as a packing case maker.
The family consisted of his father, William James Gales, mother, Sarah Jane Gales, two sisters: Elsie Jane Gales and Doris Ena Gales and three brothers: John Robert Gales, Albert Edward Gales and Sidney George Gales all lived at 'Argon Villas' 10, Millcroft Road, Cliffe.
His younger brother, John Robert, was to marry Laura Louise Thorndike in 1927 who was the sister of
Roland Thorndike MM
whose story is mentioned amongst
'The Fallen of Cliffe'
.
His elder sister, Elsie Jane, was to become a nurse and by 1928 was living at 4, Cambrian Terrace, Reed Street before moving to St George's School, Ascot, Berkshire to work. Elsie was to spend the rest of her life as a nurse living in Ascot – she died 3
rd
December 1988 aged 95.
William enlisted at Gravesend on 19
th
November 1915 when he was 20 years 7 months old and joined the 120
th
Company of the Machine Gun Corps.
After basic training he was shipped out to join the others in Flanders where, on the 4
th
December 1916, he killed in action.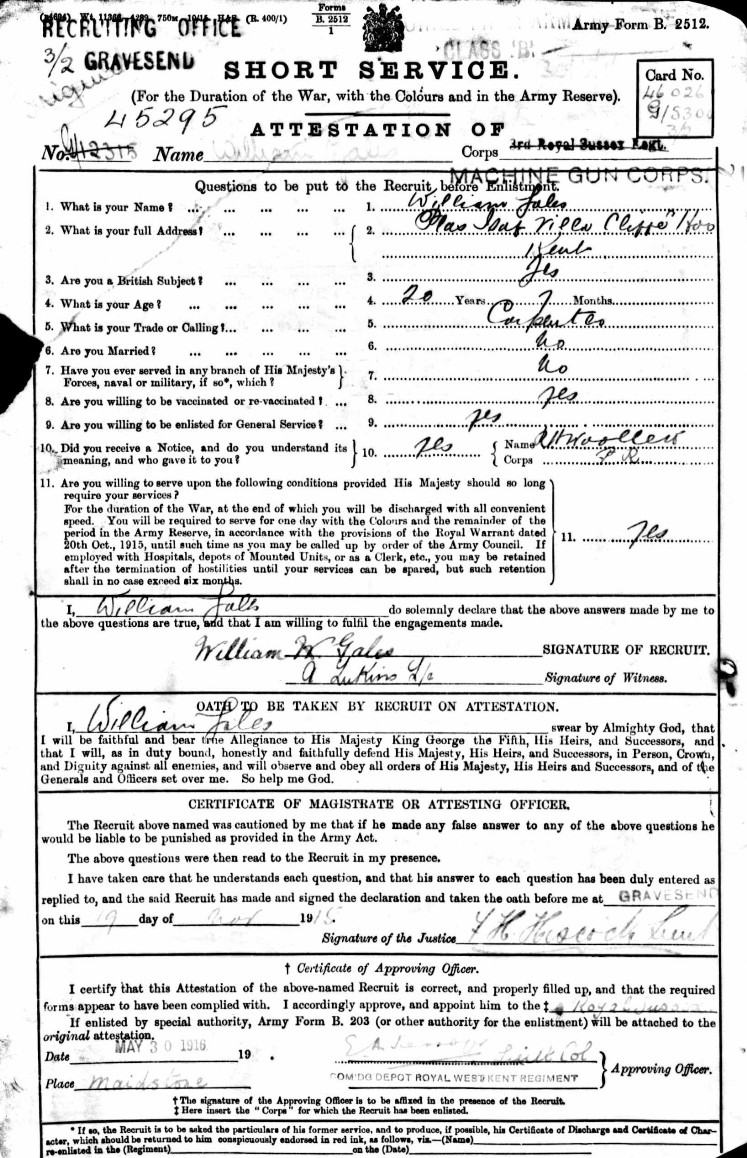 William's attestation papers.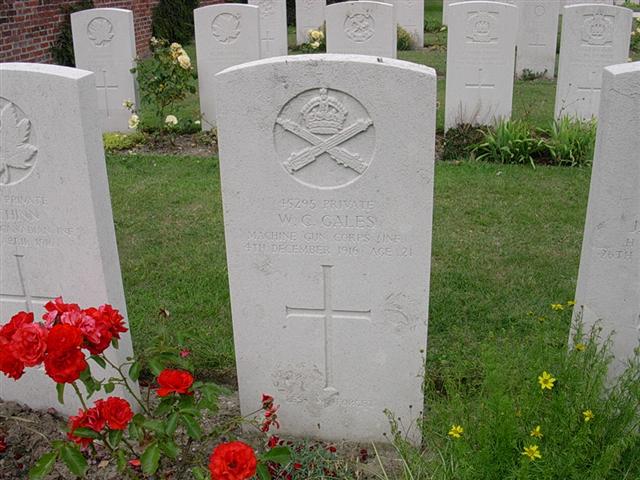 William's gravestone at Voormezeele Enclosures